Hostile Racing Products: One Piece Billet Hub Carriers: Installation / Review
Beautifully machined parts, with a truly pleasing design.

Relatively easy installation – just follow the HRP instructions for installing with the purpose made bearing install tool or use the 'heat carriers, cool bearings' method. A combination of both, of course, can also be used.

For the latter method simply pre-heat oven for 15mins at say 200-300degC+, then pop the carriers in for around 10 mins. Take out the heated carriers one at a time and drop chilled bearings straight in (bearings stored in freezer for 10 mins or so).

Immediately after you put the bearings into the carrier, slip the drive axle cups into the assembly to ensure good alignment (giving smooth, friction free movement) before the aluminium starts cooling too much.

Some good tight fitting leather gardening gloves will help a lot while handling the damn hot carriers! Install the hubs and make sure the pins go in easily to confirm the bearings are in deep enough.

To replace the bearings, pop in heated oven for 5mins and the bearings will drop straight out –with the alu expanding more than the steel bearings. At the very worst a slight tap is all that will be needed.
Misc notes:
Upper arm ball joint will need rotating for the cool vertical connection to the carrier.
O-rings go into each countersunk end of the hinge pin housing to help prevent ingress of dirt etc, protecting the pin from wear.

The engraved 'HOSTILE' name and degree number are very nice touches, done with real class.

The weight of these things are attractive as well, being a little less than the stock set up.
Stock: 65 grams - three piece / 5 screw set up
HRP: 61g one piece / 1 screw set up.
(56g each billet carrier, plus o-ring and screw total apprx – 61g)

Left: HPI Stock set up (3 piece plus 5 screws), Right: HRP set up (1 piece plus 1 screw and two 0-rings)


Initially installed with V2 DS extenders, but swapped back to V1s, allowing the axle boot cover mod to be used (which helps prevents pin loss and offers the bearing face a little better protection from dirt and debris.)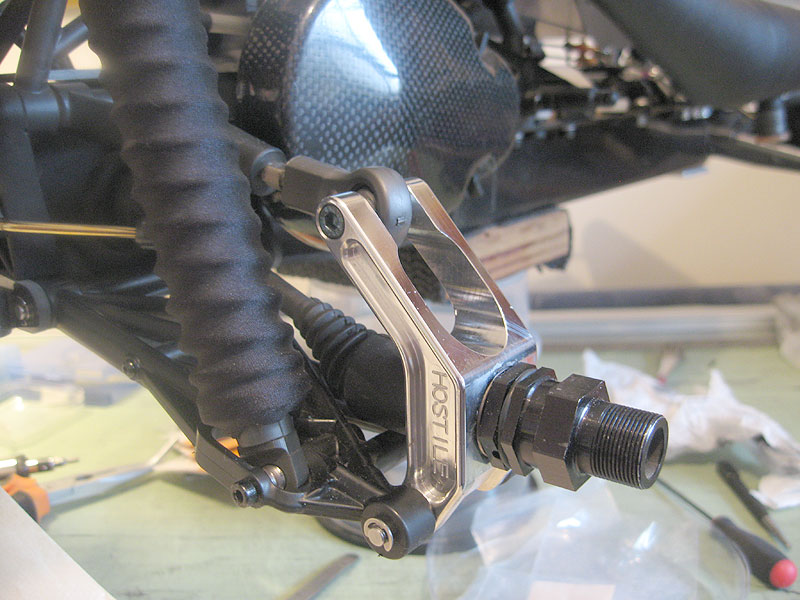 Dark Soul extenders V1s with axle boot mod